Shashank Kothi, Founder

Shashank Kothi, the founder of FinFirst Capital has more than 18 years of experience across many dimensions of Finance and Strategy functions. Shashank has worked in various leadership roles across Corporate Finance and Investment Banking, Treasury and Risk Management, and Wealth Management.
Shashank has worked with organisations such as Vedanta Resources, JP Morgan, ICICI Bank, Kotak Investment Banking and Allegro Corporate Finance. Shashank has successfully managed engagements across levels within and beyond the organizations where he has worked. He has been responsible for the closing of some marquee transactions in the Corporate Finance and Risk Management space. He has also managed high profile relationships in the Wealth Management space.
Shashank is an engineer from M S University of Baroda and an MBA from IIM Bangalore
Shivram Subramanian, Partner

Shivram has over 25 years of Investing and Investment Banking experience. He has been actively involved in raising growth capital for corporations, both debt and equity across a variety of sectors like Infrastructure, Engineering, Real Estate etc.
He has worked with SSKI (a leading stockbroking and Investment Banking firm, subsequently acquired by IDFC) and IDFC for nearly 10 years. He has also worked in other organisations like Veda Corporate Advisors, Arthur Andersen, IL&FS and SBI Capital Markets.
Shivram holds an MBA from IIM Bangalore and is also a rank holder Chartered Accountant.
Ravi Manik, Partner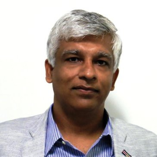 Ravi has twenty years of global work experience in business and technology,  Fintech, Communication Software and Semiconductor industry. He was previously Director at Broadcom, and until recently Business Head at a Fintech startup.
Wealth management has been his passion for the last 15 years, and he has experience doing the same both in the U.S. and in India
Ravi has a bachelor's degree in Computer Science from M.S. University, Baroda and M.B.A. degree from UCLA Anderson School of Management, where he was awarded membership of Dean's honor society.
Neel Chitalia, Associate Vice President

Neel has nearly one and a half years of experience working across sectors like Healthcare, Food and Beverages. Earlier worked with HSBC Investment Banking covering the European Consumer Industry.
Neel is an engineer from Mumbai University and an MBA from Goa Institute of Management.
.